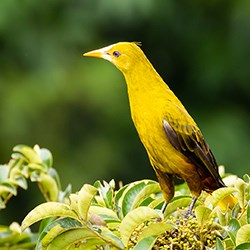 We take you to an early morning in the rainforests of Brazil, bird watching and making field recordings of ambient sound from a tower above the canopy of the forest. The tower is a short walk from Cristalino Lodge in the depths of the southern part of the Amazon in Mato Grosso state. Here there is an exceptionally well preserved habitat of pristine rainforest.
As your host Dr. Steve Banner I also explain a little more about our nature travel company, Wildlife & Wilderness as we have been specialising in tailor made holidays for almost 25 years.
We listen to clients' dreams and using our extensive knowledge and professional skills marry those dreams to experiences that inspire. As specialists we are totally independent, not contracted to any other party, we work with those lodges, guides and services that fit your requirements at the time. Ours truly are tailor made holidays. We love designing trips that excite us and allow you to be enthralled by the natural world.
It goes without saying that all that has stopped just now but we are resilient and when international travel picks up again we will be here to help you realise your dreams. There is an appropriate hashtag at the moment #dreamnowtravellater.
It really is time to start planning your wish list of destinations and contact us with your thoughts for trips
The sounds we have recorded here can be heard rom Guyana, Ecuador, Peru and Brazil. They occur every day right across the greatest rainforest in the world, even now whilst we are in lockdown. Unrelenting nature.
Of particular note you'll hear the dull grey bird that is infrequently seen but aptly named Screaming Piha. You will not mistake it!
This mix of recordings comes from one morning high in the canopy of the Brazilian rainforest. Clouds float just above the trees and there is some rain, which disperses as the morning proceeds. Perhaps because of the weather that morning, there are not quite so many different calls but you will get an impression of the diversity of life in the forest.
Contact us at: podcasts(at)wildlifewilderness.com
Review our podcasts at Apple Podcasts or on Podchaser: