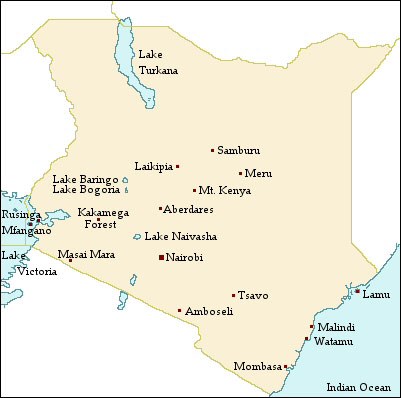 Kenya is where the safari originated, coming from the Swahili word 'safari' to journey, and that is what we would encourage you to do in this magnificent land of changing scenery, that is at once familiar; next remote, isolated and very wild; it is the destination for the quintessential African wildlife safari holiday.
From a wide range of safari camps and lodges you can take game drives or walk across the rolling grasslands of the Masai Mara in search of abundant wildlife. We do not believe it is ever possible to tire of this savannah, perhaps it is something historic in all of us. The Mara and adjoining Serengeti are jewels in the natural world.
If you are thinking of a safari to see the migration in the Mara or are a keen photographer then do talk with us and we can arrange the best opportunities for see the migration and for wildlife photography holidays.
Other areas of the country are highly recommended and with a good network of internal flights it is possible to combine a safari in the Masai Mara with travel in the more arid northern regions such as Samburu, Laikipia or Meru seeking different species. Alternatively, take time to sit and gaze at Kilimanjaro rising above the acacia plains of Amboseli National Park where herds of elephant are a highlight. In these locations and others throughout Kenya there are camps, lodges and private homes that you can stay in and discover the endless natural beauty of the country. Helicopter transfers and light aircraft charter flights direct into the properties are also possible and ensure you make the most of your time on safari.
At the end of a Kenya safari you do not have to head off from Nairobi to the world renowned beaches of the Seychelles, it is just as easy to relax in stunning locations, either in the bush, perhaps on Lake Victoria, or more logically on the wonderful beaches of Kenya's Indian Ocean coast. It is this accessibility of safari and beach that makes Kenya a popular destination, particularly for first time safari holidays but the wildlife in Kenya still draws many to return year after year.
We can arrange for you to join camel safaris in the north of Kenya, riding safaris and walking safaris. However, the majority of our tailor made safaris in Kenya fly you into camps and lodges that have their own 4x4 vehicles and guides and thus maximise your time on safari. Typically these form the basis of most safaris that we design. Call us to discuss your own ideas for possible safari options or the best locations to stay in camp for an extended period.
You can read more about safari holidays in East Africa on our African safari holidays page.