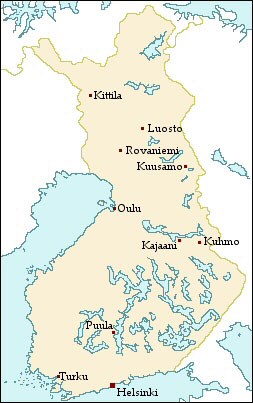 For our Director, Steve, travel to Finland stretches back to 1986 when he first reached the country from northern Norway by road and camped wild in the forests whilst journeying southwards. Since then he and other staff have travelled throughout Finland many times, during all seasons and participated in numerous activities. Steve has also been invited back to consult on tourism development projects in the Wild Taiga region of northeast Finland.
What really strikes us each time we return, besides the huge forests, the number of lakes and general peacefulness of the countryside is the hospitality of the Finns. They really do know how to produce good holidays whether they are winter activity holidays, wildlife holidays, or summer adventures hiking and canoeing. There are deep respect and love for the outdoors and Finland has packaged this and it translates well into Wildlife & Wilderness holidays.
Yet this is Nordic region is mostly off the radar for Brits and Europeans. The taiga forest that stretches from Norway, Sweden and Finland right across Siberia is a biome that we know little about. The wildlife here is different and distinctive. Brown bears, wolves, elk, lynx, wild reindeer and beavers are present. Bird species seen include capercaillie, black grouse; owls including great grey, Ural, Tengmalm's, hawk and pygmy owls; red-throated and black-throated loons on the lakes with Goldeneye and smew; cranes, Siberian jays and willow tits among others.
In summer it can be hot and sunny with 24-hour daylight and in winter cold with deep snows and the brilliant aurora borealis. There are so many more possibilities for natural adventures here and if you go and try the more popular winter activity holidays then we encourage you to return in the summer and enjoy the outdoors as the Finns do.

 A number of people have asked who organised this holiday so I have recommended you.
 Mrs H. - Manchester 
 W&W did a great job creating our itinerary, very knowledgeable and always returned our email enquiries promptly.
 The L. Family - Saudi Arabia.