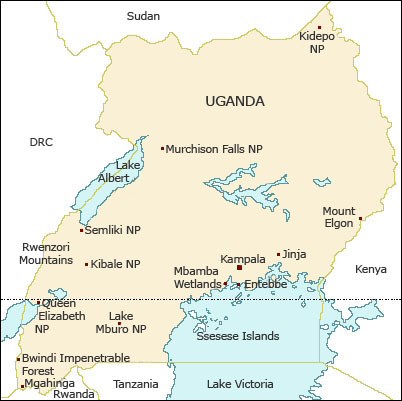 Uganda, the "Pearl of Africa", a term used by Sir Winston Churchill and over used, but why and what does it mean? Uganda exudes a vibrancy that is shown through the smiling faces of the people you meet, the verdant green forests, the rushing waters of the Nile and the incredibly diverse fauna seen on safari in Uganda.
From a myriad of colourful butterfly species, to shoebill storks, a leopard coming to drink on the banks of the Nile, tree climbing lions to walking in the presence of some of your closest relatives, chimpanzees, to gorilla trekking; a safari in Uganda is likely to spoil you for more wildlife experiences, such is the diversity that is so easily covered on any Uganda safari holiday. Uganda was firmly on the East African safari circuit during the 1960s but over the next 30 years had its troubles but today is stable, safe, peaceful and welcoming. It no longer attracts mass tourism and hence you can expect unique and special safari experiences in a destination that is sensitive to sustainable, high quality tourism.
The Safari Destinations
In the far north of the country is Kidepo National Park, arid grasslands, hills and dry river valleys that are home to plains game, unusually for Uganda, including zebra. Whilst few take the flight or long journey up to Kidepo, those that do are rewarded with somewhere almost untouched and unique in Uganda.
More likely, heading north from the capital, Kampala on an extended Uganda safari holiday you would reach the borassus palm-studded grasslands of Murchison Falls National Park. Here the River Nile, on its route from Lake Victoria northwards falls a spectacular 45m through a ravine only 7m wide at its narrowest, a thundering mass of boiling water in the pools at its base. You can view the falls from close up at the top or enjoy a boat trip along the river towards the foot of the falls, watching out for giant Nile crocodiles sunning themselves on the banks.
Murchison Falls National Park is also one of the highlights of a safari as the savannah holds plentiful game including Ugandan kob, hartebeest and numerous giraffe and predators including lions and leopards. Elephant roam these grasslands too. The plains stretch down into light woodland on the shores of Lake Albert where rare shoebill stork may be found.
Close to Murchison Falls NP is Budongo Forest Reserve, a prime habitat for chimpanzees and a group of habituated chimps can be tracked here. Also Budongo is known among bird watchers for a walk known as the Royal Mile, some of the best bird watching in Africa.
Further south lies the town of Fort Portal. From here you may safari in Semliki Valley Wildlife Reserve from the luxury of Semliki Safari Lodge, or head into Semliki Forest where there is some terrific bird watching with Congolese species and Albertine Rift endemics present. It is more usual on leaving Fort Portal to reach Kibale Forest National Park, a reserve renowned for its chimpanzees and other primates. On one visit, within 20 minutes of walking from the ranger station we counted 7 primate species including chimps. One of the highlights of this forest is to spend a day in the company of habituated chimpanzees. Only 6 permits are granted each day but the experience of understanding the complex lives of these primates is very special.
Nearby is an outstanding community run project, the Bigodi Wetland Sanctuary, where a guided walk is a wonderful way to spend an early morning or afternoon looking for birds and primates. In particular this is a great area of turacos and hornbills in the huge trees, as well as papyrus gonalek in the reeds.
Passing underneath the Rwenzoris or Mountains of the Moon and crossing the Equator the landscape changes again you reach Queen Elizabeth National Park, one of Uganda's better known safari destinations. The savannah here is characterised by euphorbia that intersperse the plains. These same plains are split open by Kyambura Gorge, a rainforest unseen until you stand on the rim. It is home to an isolated group or chimpanzees and trekking to see them is possible. QENP is also home to lions, elephants and much other wildlife and a game drive or two whilst one safari here is recommended. Another usual feature of your time in the reserve is a boat trip on the Kazinga Channel where you will see many hippos and a great diversity of bird life. You should also consider a night halt at Ishasha in the south of QENP where tree-climbing lions reside.
An easy journey from Ishasha through the hills brings you perhaps to the highlight of any safari in Uganda, Bwindi Impenetrable Forest National Park. The forested mountain slopes here are home to around half of the total population of mountain gorillas. From Bwindi you will set out gorilla trekking to reach one of a small number of habituated groups visited daily. The trekking can be hard on steep hills but the rewards are a lifetime of memories and an emotional experience meeting these gentle giants in their own habitat.
On short safaris in Uganda it is possible to fly down to Bwindi or drive there direct in a long day from Kampala. If driving and if returning to Kampala after a longer safari in Uganda then we encourage you to stop at Lake Mburo National Park. Here you can stretch your legs on an early morning walking safari as there are no large predators in this scenic park. Eland, zebra, waterbuck and bushbuck are among the wildlife you may encounter. A boat cruise on the lake here makes an enjoyable way to end the day here; African finfoot are often seen and with luck you could find the rare shoebill stork.
Before or after a safari you might want to spend a day or two around Kampala, particularly if you enjoy bird watching. Mawamba wetlands are a short distance away and a good location for shoebill storks and water fowl. Towards Jinja is Mabira Forest, another good Ugandan bird watching location. At Jinja you might wish to relax for a day or so beside the Nile or enjoy the thrill of white-water rafting.
To Conclude
As you can see a Uganda safaris are extremely diverse, accessible and include some world class wildlife experiences; all in a country that delightfully changes at every bend in the road. Our Uganda safaris are bespoke and you can expect your own driver/guide throughout your safari holiday. This is ideal for continuity and using local guides gives a good insight into their country. The exception of course is if you are on a luxury safari flying into lodges and camps. Underrated as a safari destination, Uganda really is a gem of a country with everything you might expect of a safari in East Africa and much more besides.